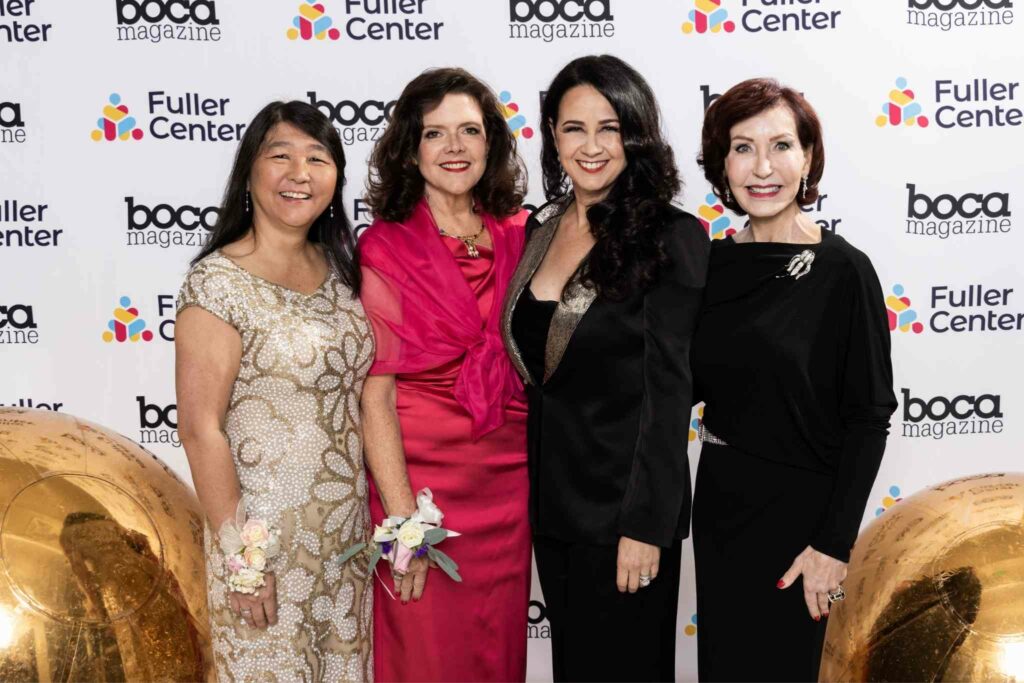 The Wee Dream Ball will be a winter wonderland evening featuring live entertainment, dueling pianos, dancing, luxurious live auction, delicious cuisine, and heartwarming stories from members of the Fuller Center community.
The support and belief in the Fuller Center mission allows them to continue embracing, educating, and empowering the hardworking, under-resourced families and children of our community – the essential workers ultimately taking care of us, and the workforce behind the workforce.
Fuller Center and supporters remain steadfast in their commitment to turn the tide of generational, economic inequity and make a positive impact in as many lives as they are able, because they know TOMORROW BEGINS TODAY!
Location:
Special Honoree:
Event Chairs:
Boca West Country Club
20583 Boca West Drive
Boca Raton, FL 33434
Gail Wasserman 
Rosa Agentis Feeney and Karen Foreman 
To sponsor the event, purchase tickets, or make a Gift from the Heart donation in support of the Fuller Center, please contact Assistant Director of Philanthropy Alana Lagerström at alagerstrom@fullercenterfl.org or call (561) 391-7274, ext. 134.
For more information on how to become a sponsor of some of our other events, please contact Alana Lagerström at alagerstrom@fullercenterfl.org or at      (561) 391-7274, 134
2022 WEE DREAM BALL SPONSORS
EDUCATE SPONSOR
Karen & Jay Foreman
Christine E. Lynn, E. M. Lynn Foundation
Jo Ann and Philip Procacci
Publix Super Markets Charities
Sam and Simone Spiegel Family Foundation
Schmidt Family Foundation
EMPOWER SPONSOR
Brotman Nusbaum Ibrahim & Adelman
Silvana & Barry Halperin
Lynne and Bob Hart
Brotman, Nusbaum, Ibrahim & Adelman
Leslie & David Kantor
Hiromi & Robert Printz
Sandra & Marvin Rubin
Susie & Mark Tabor
Eda & Cliff Viner
DESSERT SPONSOR
Boca West Country Club
Table Décor Sponsor
Gucci Boca Raton
DANCEFLOOR SPONSOR
The Law Firm of Anidjar & Levine, P.A. 
LUXURY RETAIL SPONSOR
Saks Fifth Avenue Boca Raton
MAGAZINE SPONSOR 
Margaret Mary Shuff and Boca Raton Magazine
PROGRAM BOOK SPONSOR
SIGNAGE SPONSOR 
FastSigns Boca Raton
Signature Cocktail Sponsor
Tito's Handmade Vodka
Table Décor Sponsor
Gucci Boca Raton
Gift from the Heart Donors
Robin & Charles Deyo
Betty Grinnan
Tracy & Rob Louv
Plastridge Insurance Agency
Rubin Obstgarten Family Foundation
Sam and Simone Spiegel Family Foundation
Elaine J. Wold
Table Sponsors
Doris & Neil Gillman
Joni & Al Goldberg
Stacey & Dr. Evan Packer
Patricia & David Wallace